Jack got into the Army Air Corps to fly, influenced by his father, a WW1 fighter pilot, and was assigned P 38s after graduation, which happened to be 5 days after Pearl Harbor was bombed.
After he earned his wings at Luke Airfield, Arizona, in December of 1941, Jack protected the California coastline in a Lockheed P-38 Lightning. Sent to England in the spring of 1942 with the rest of the 1st Fighter Group, Jack and his fellow squadron mates made combat sweeps over occupied France in their P-38s.
Later that same year the group was sent to assist in the invasion of North Africa. Jack was forced to make an emergency landing in Portugal in November 1942, on a ferry flight from England to North Africa, Ilfrey diverted to an airfield in neutral Portugal because of a malfunctioning drop tank. The Portuguese seized his P-38 and Ilfrey was to be interned. However, while sitting in the cockpit showing the Portuguese how to fly the now refueled aircraft, Ilfrey quickly started it up, took off and flew it to Gibraltar.
He was sent to the European Theater of Operations (ETO) and became the first ever P 38 ace, did 72 missions, then was sent back to the states to be an instructor of P 38s. Then he was assigned as Operations Officer of the 79th Fighter Squadron and sent back to the ETO in April 1944, where he also flew the P38s again.
His 2nd escape from capture was on June 12, 1944, six days after the Allies invaded Normandy, Capt. Ilfrey was shot down by anti-aircraft fire while strafing a train near Angers, France. After bailing out of his burning P-38, he evaded until he met Jean Voileau. His family, at great risk to themselves, hid Ilfrey for two weeks in their home. The Voileau family gave him food, clothing, false identification, and a bicycle.
Ilfrey posed as a deaf and mute French farmer named "Jacques Robert." Helped by several French civilians along the way, he rode the bicycle about 150 miles to friendly lines in Normandy. Unlike most successful evaders, Ilfrey returned to fly combat missions.
The fighter group had shifted to Mustangs in July 1944. In Sept he was made Squadron Commander of the 79th, and Jack was promoted to Major.
The celebration party got out of control and Jack was busted back to 2nd Lieutenant, though he remained in command, the only 2nd Lt to ever command a fighter squadron. General Doolittle intervened and Jack was promoted to Captain.
In Nov 1944, he landed his Mustang behind enemy lines, picked up his wingman and got the hell out, making it to Belgium
the mission markings:
50 top hats
7 umbrellas,
4 brooms
4 locomotives
5 bombs
8 swastikas
a rare original 108 gallon paper drop tank was donated to the restoration effort, and a mold was made and fiberglass replicas were made at Jack Roush's composite shop.
the restored Happy Jack's go buggy has the only working tail radar known (AN APS 13) to exist, one was found NOS and installed, and an operational ANN 6 gun camera in the left wing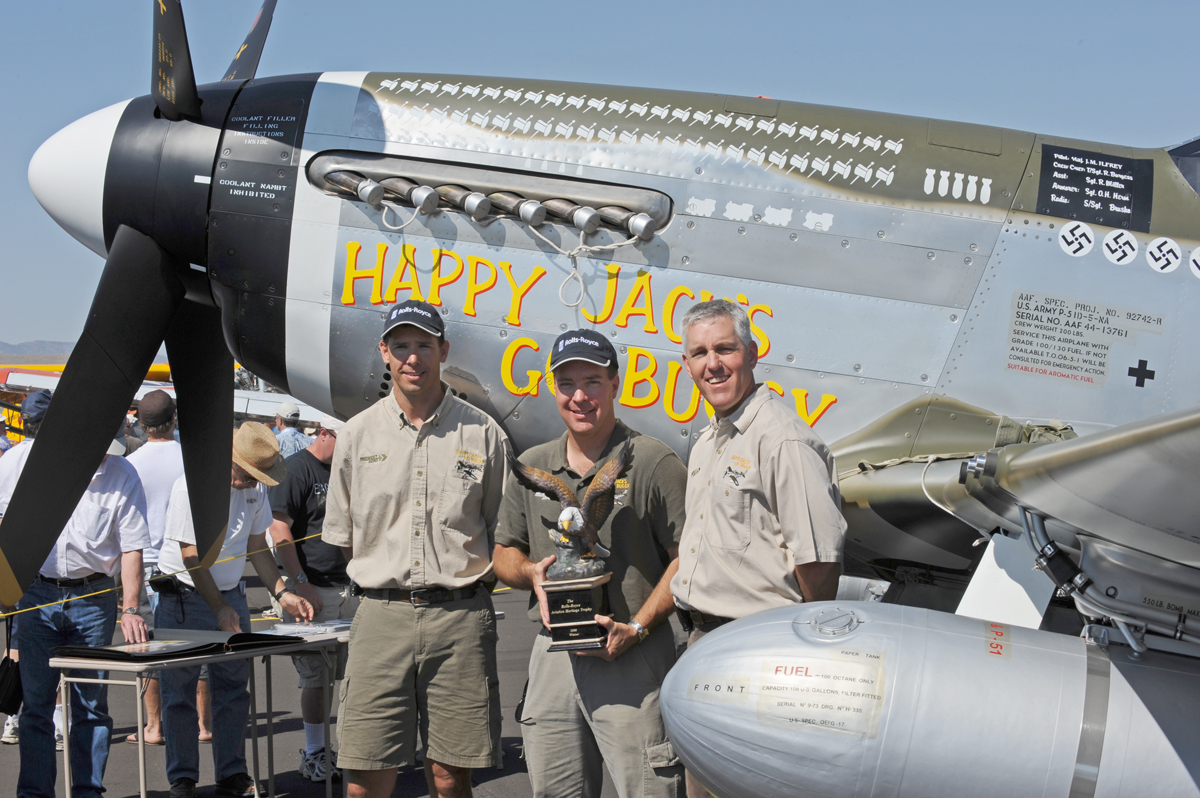 http://airportjournals.com/wp-content/uploads/0810019_4.jpg
http://www.crazyhorseap.be/Mustangs/Mustangs/N74190HappyJack/N74190HappyJack.htm
https://www.flickr.com/photos/dougsheley/5840879361/
http://www.nationalmuseum.af.mil/Visit/MuseumExhibits/FactSheets/Display/tabid/509/Article/196024/two-escapes-capt-jack-ilfrey.aspx
http://www.midwestaero.com/articles/HappyJacks_Sept2009.pdf
Or, read the book that Jack wrote about it all, in 1946
https://www.amazon.com/gp/search?index=books&linkCode=qs&keywords=9780764306648
This autobiography was originally written in 1946 by eight-victory WWII Fighter Ace, Jack Ilfrey. This new edition has been expanded with many new photographs (many never before published), a special color photo section, and three detailed aircraft profile paintings.
The reader will fly through the skies with Ilfrey in his P-38 as he and his unit, the famed 94th Fighter Squadron, become the first group of American aircraft to fly from the USA to England. Thrill to the stories of aerial combat over North Africa as Ilfrey becomes one of Americas first WWII air aces.
Marvel at the flying exploits of Ilfrey as a member of the 20th Fighter Group/8th Air Force and join him on his incredible evasion story through German occupied France. This book is undoubtedly one of the finest stories of aerial combat that has ever been written.
or
https://www.amazon.com/Happy-Jacks-Go-Buggy-personal-document/dp/0682492361/ref=sr_1_1?s=books&ie=UTF8&qid=1471068708&sr=1-1&keywords=happy+Jack%27s+Go+Buggy
with a forward by Eddie Rickenbacker